Introduction
In my work as an anthropological ethnographer and illustrator, I have been working to connect seemingly disparate disciplines together—at times, even as a messy and rough bricolage. Thinking broadly about kinship—both intra- and inter-species—as a fundamental and foundational practice toward a mutually thriving future, I experiment with different formats and genres to reimagine what it means to produce ethnographic work. This reimagined work is not only informative but also beautiful, like the kinship I experience with my dog, Frank, who is depicted in the illustrations below. My investment in beauty is also an intentional form of resistance against neoliberal capitalist systems that prioritise profit, results, and efficiency over beauty, process, and patience.
It matters that the illustrations in this series are digital. Using a software called Procreate on the 11" iPad Pro with an Apple Pencil, I actualise my imaginations on the screen. That is, this specific combination of technologies enables me to create art based on my dreams of domesticity; it helps me dream. 
Through these illustrations, I hope to combine writing and art and to push beyond 'multidisciplinary' or 'interdisciplinary' and toward 'undisciplinary' (see Ko 2019). Drawing from fields with no clear demarcation of their boundaries—those that can thus stretch out their tendrils infinitely—such as kinship studies, queer and feminist theory, and environmental humanities, I hope to use visual artistic methods to tell imaginative stories of more-than-human kinship.
Domestication and Domesticity
The following series of digital illustrations explores the concepts of domestication and domesticity simultaneously. Emphasising the common root of the words, domus, which can mean household, family, or habitat, I focus on what the presence of a dog, a nonhuman animal, does in and to the domestic—and perhaps often envisioned as 'human' or strictly manmade—sphere. I aim to reimagine and visualise what domestication looks like, shifting away from the often hierarchical, unilateral, and domineering vision of relating to nonhuman beings and toward more complex, multilateral, and loving ways of existing with them that are specific to the individual bodies and situations. 
Furthermore, these illustrations depict dreams of mine. As a perpetual migrant who has lived in fifteen different homes in three different continents, none of which felt particularly mine, I have always longed for a home—my home, designed and decorated to my liking, and of course, to Frank's liking as well. It is an inherently romantic endeavour, not in the interpersonal sense, but perhaps in the sense that I focus on the irrational and the imaginative, the emotional and the beautiful, the personal and the subjective.
The Living Room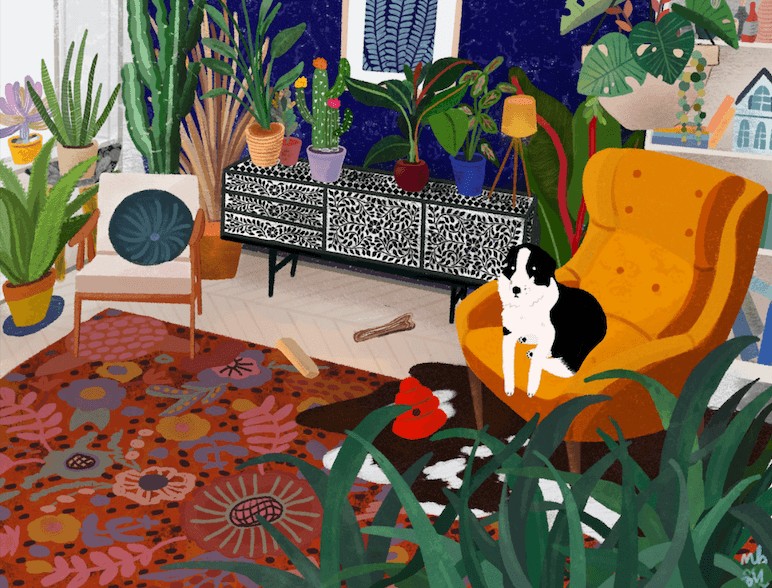 Frank and I spend most of our time in the living room. In the small one-bedroom flat we share in Edinburgh, there is more than enough room for the two of us on the disproportionately large couch that takes up a lot of space in the relatively small living room—but he often chooses to sit right next to me, some part of his body touching some part of my body. Looking out at our north-facing window on a rare (but beautiful) sunny day in Scotland from the couch covered in, and also somewhat woven with, dog hair, and presumably some human hair as well, I dream of a high-pile wool rug and a cow hide that Frank can rub his face on after every meal. I dream of bone inlay storage units and bouclé armchairs whose textures I will appreciate time and time again. I dream of a place with a lot more light and many more plants and some more room to move around in. However, I'm sure that even with all the extra room, we'll end up sitting close to each other, touching, just because we like to.
The Bathroom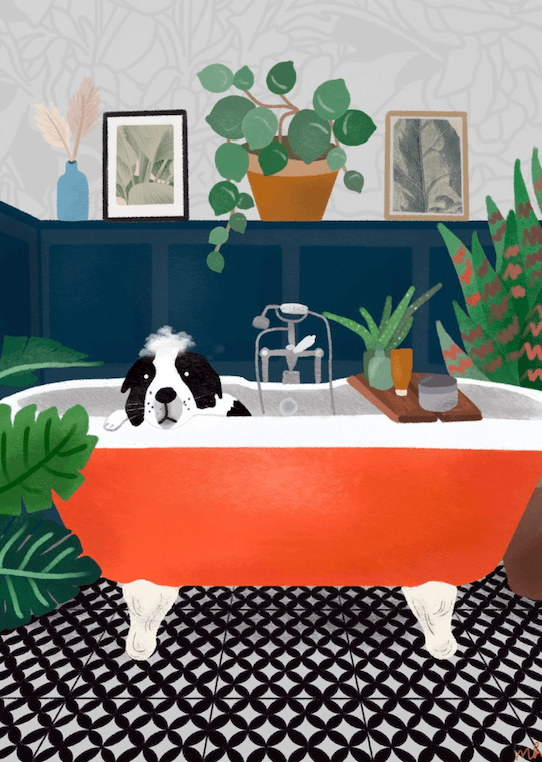 Frank's least favourite time is perhaps bath time. Thankfully, he does not need to be bathed too often; the outer layer of his double-coated fur is surprisingly dirt- and mud-repellent, staying relatively clean even on rainy and mucky days. Even then, bath time comes for him about five times a year, usually between seasons. It never takes more than 20 minutes, but they are long 20 minutes. When he was younger, he used to struggle, and try to jump out of the tub every chance he got. Now he has become accustomed to it, and perhaps also too tired to fight as he gets older. He now stays in the tub, looking forlorn and dejected. I dream of a deep, bright orange clawfoot tub to bathe Frank in. The fully tiled floor would mean that I can just let him shake off all the water however many times as he pleases, and get soaked with him and smell like a wet dog with him. The plants would get a good misting out of it, too. 
The Kitchen
Like most dogs, Frank loves human food. He usually gets a bite of everything I eat (as long as it is dog-safe). He has quickly developed a taste for cured meats and most cheeses, immediately becoming alert and magically appearing in the kitchen whenever I'm preparing a charcuterie board. We often stand next to each other in the shoebox of a kitchen in the flat; he dreams of getting some prosciutto and I dream of a bigger kitchen with a butcher's block countertop, an open oak and cast iron shelf, a huge ceramic sink, and a backsplash that I wish to tile myself. There would always be music in the kitchen, intermingling with the smell of whatever I'm cooking and the sound of Frank's nose busily sniffing with his head tilted up toward the countertop. 
The Bedroom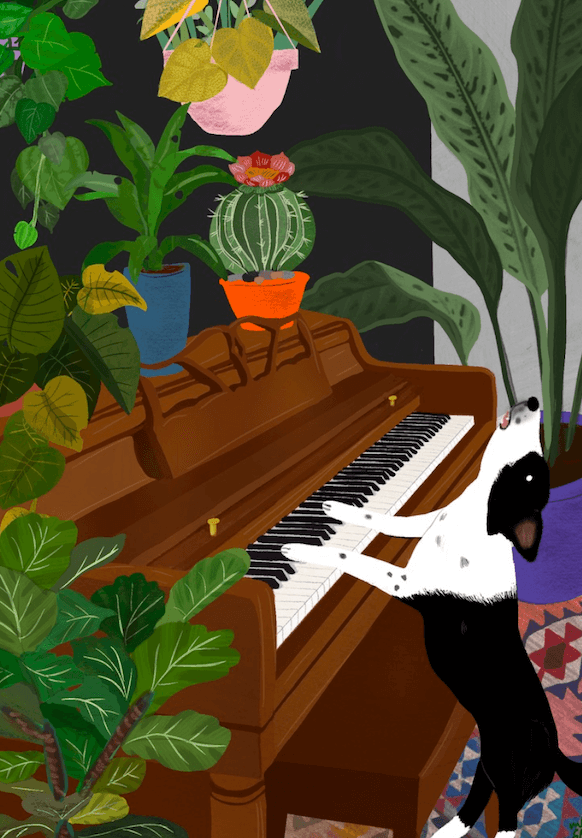 The main event in my bedroom is not the bed; it's the piano. I have a digital piano sitting flush against my window in the bedroom. It has all 88 keys while being compact enough to fit into the small flat. Frank seems to like it when I play. He always comes to sit on the bed and take a little nap, especially if I'm playing Chopin or Bill Evans. He's a strangely musical dog. He tends to sing along (howl along) when I use my tuning pipe for the guitar. He matches pitch when I practice the trumpet. But his favourite has always been the piano. One day, I tell myself every day, one day I will have a 'real' piano. I jokingly dream of teaching Frank how to play the piano—get his paws up on the keys and push down, making what I could only imagine would be a cacophonous set of noises. Maybe we will even write a strange little song together. 
---
References
Ko, Aph. 2019. Racism as Zoological Witchcraft: A Guide to Getting Out. Lantern Books.